All Aboard VTA's Holiday Trolley
11/16/2017 3:30 PM

|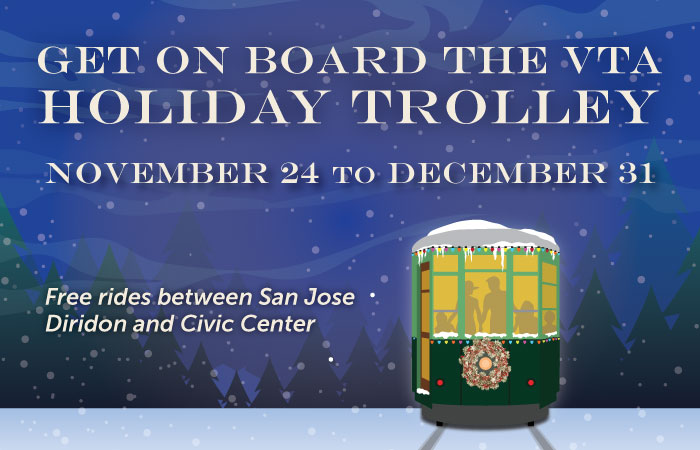 This holiday season, join in on the magic and celebrate a favorite holiday pastime. VTA's historic trolley will be decorated in true holiday fashion, so jump on board and spread the joy across downtown San Jose for FREE. Bring the family and ride the free trolley on Friday, Saturday and Sunday from November 24 through December 31.

Weather permitting, the trolley will operate approximately every hour from 6:30 p.m. to 10 p.m. on Friday nights and from 2:30 p.m. to 10 p.m. on Saturdays and Sundays between the Civic Center and San Jose Diridon Light Rail Stations. Make VTA a part of your family's holiday tradition and ride the trolley to and from Christmas in the Park, Downtown Ice or any of your downtown holiday destinations.

On December 2, VTA will host a special event on board the trolley from 2:30-5:00 p.m. starting at the Diridon Light Rail Station. The event will include cookies, holiday tunes and the opportunity for children to write and mail letters to Santa on the trolley.

For more information, visit vta.org/trolley.

*The Holiday Trolley will not be in service on November 26, December 1, December 17, and December 24 due to Levi's Stadium events.