COPE Team Shines on National Night Out
8/4/2017 1:11 PM

|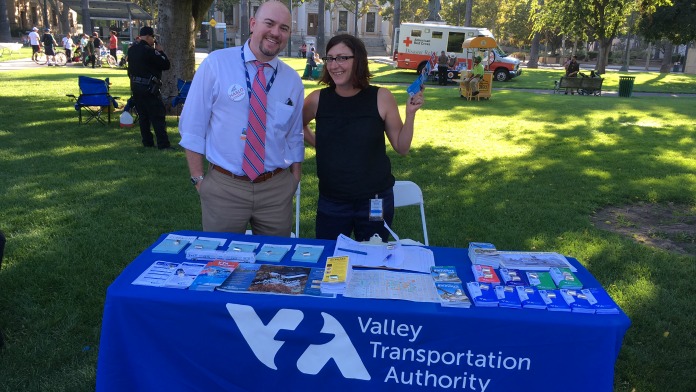 At VTA, good relationships with our passengers, elected leaders and the community at large are important in order to do our job effectively.

The Community Outreach and Public Engagement (COPE) team is one of the front line groups at VTA developing those relationships. This year on National Night Out, our team shined brightly in support of the annual event promoting police-community partnerships and safe neighborhoods.

The COPE team attended events in Downtown San Jose, Mayfair and Cupertino and were able to spread the word on all things VTA, and current projects in those parts of Santa Clara County. (BART, Light Rail Rehab, Light Rail Speed and Safety Improvements; new Alum Rock Bus Rapid Transit service; Story/Keyes Complete Streets; Hwy 85 Guideway Study and the I-280/Wolfe interchange project).

VTA Board Members Sam Liccardo, Cindy Chavez, and Alternate Member Dave Cortese joined in on the fun at the Mayfair event hosted by Council member Magdalena Carrasco in Emma Prusch Farm Park.

"The VTA COPE team is always ready to connect and engage with our riders and community about the many projects, programs and initiatives we have underway," said COPE Manager Brandi Childress. "Think of us as the tentacles drawing people in to our process so that VTA can deliver better transportation improvements for our county."

See more photos from National Night Out here.

We're here to directly connect with our stakeholders and would love to present to your organization or neighborhood association. Please contact Community.Outreach@VTA.org to invite VTA to your meeting or event.