International GIS Day at VTA
11/24/2017 8:15 AM

|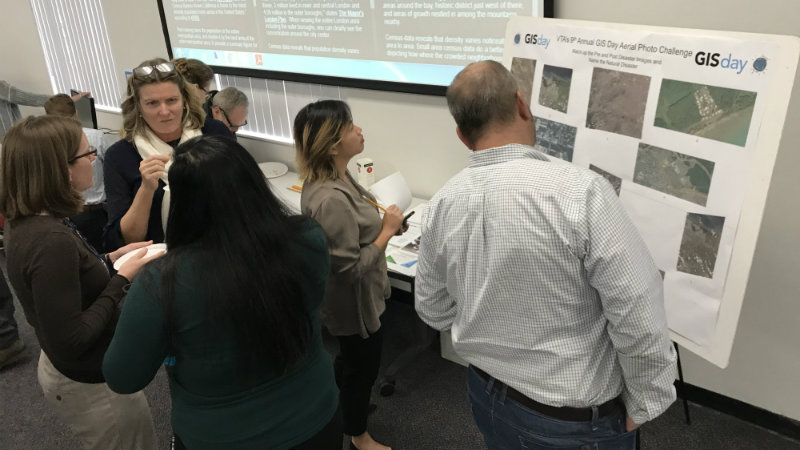 What does the study of Geography have to do with public transportation, you ask? Everything! There's even an international day celebrating that relationship: GIS Day.

GIS stands for Geographic Information Systems and essentially uses various data resources to spatially analyze how features of a region play an integral part in designing effective transportation networks.

International GIS Day (observed annually on the 3rd Wednesday of November) is an opportunity to demonstrate real world applications of geographical information. And at VTA the GIS team took advantage of the special day to roll out some of the interesting issues they're working on.

Senior GIS Specialist Krystal Phaneuf explained the new enterprise GIS solutions of connected apps, currently in the testing stage, and not yet available to the public. She created the app ecosystem for crowdsourcing to report trash or graffiti at bus stops. When someone relays a message for attention needed at a particular stop, the message is relayed to VTA, which then uses a workforce app to assign tasks to staff who respond to those needs in the field.

Vivek Bansal spoke about how his team has enabled an efficient method of maintaining the bus stop maintenance inventory. Also he demonstrated new web services of viewing this data. Linking the bus stop inventory to the reporting app will allow for synchronous work flow between all the groups in passenger facilities, planning and maintenance.

Marshall Ballard, a Senior Transportation Planner who heads up VTA's GIS unit reported on how we are deploying contemporary spatial analytics to assist VTA staff and VTA member agency staff to analyze geographic information. The primary analysis is focused on integrating transportation and land use, which leads into the motivating force; anthropogenic impacts. (Don't you love learning new words?) – The result of human behavior on nature and how that ties into our transportation network.

VTA's team of creative, inquisitive geographers are always searching for ways to make life easier, by allowing you to be more mobile. This was the 9th annual event, next year join us for the 10th annual GIS day.