Learning from LA: VTA Visits CicLAvia
4/17/2017 1:51 PM

|

As San Jose gears up for the upcoming Viva CalleSJ, some VTA biking enthusiasts had a chance to check out a similar event in the Los Angeles area, the area's overall biking infrastructure and talk with city leaders about how they're making biking easier to do in LA.

"CicLAvia" is an open streets event similar to Viva CalleSJ. On March 26, VTA General Manager Nuria Fernandez and a host of other San Jose bicyclists involved in planning Viva CalleSJ took part in the Culver City to Venice Beach event.

The group joined thousands biking on car-free Venice Boulevard, from downtown Culver City to Venice Beach. Santa Clara County Supervisor Ken Yeager, San Jose Councilmember Sylvia Arenas, and Fernandez took part in a study tour sponsored by the City of San Jose, and led by nonprofit "8 80 Cities."

Over the course of three days, the group learned about CicLAvia, spoke with LA Metro about their open streets program, and biked CicLAvia.

The group met with executive staff of Los Angeles Metro, which has sponsored open streets events to the tune of $3.7 million dollars over the last few years; Los Angeles Department of Transportation, and Los Angeles Council Member Jose Huizar. The Council member's office applauded how a small group of community members pushed for open streets, and steadily moved city bureaucracy toward accepting and now enthusiastically supporting CicLAvia.

Los Angeles DOT is taking the next step and piloting mini-open streets events called Play Streets.

Various bicycle and pedestrian improvements were also on the list of visits, including a protected bike lane on Los Angeles Street, Metro Bikeshare stations, pedestrian improvements along Broadway, and the transformed intersection of Hope Street and 11th Street, complete with bioswales and parklet. Broadway is reclaimed for pedestrians in downtown Los Angeles in front of Grand Central Market.

The group met with local Culver City business owners along the CicLAvia route where they learned that several business owners were adding staff to accommodate increased business during the event.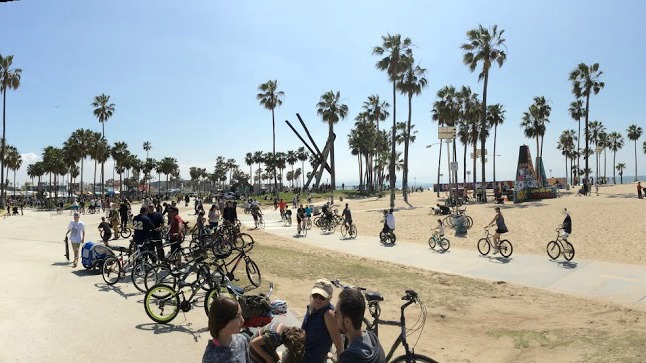 A UCLA researcher talked about the positive impacts of CicLAvia events, including day-of transit ridership increases of 40% to 50%.

Los Angeles Mayor Eric Garcetti was among those to greet the San Jose contingent, which then joined thousands in downtown Culver City to kickoff CicLAvia. A steady stream of bicyclists flowed along the six-mile route, passing legendary sites, such as Venice High (a.ka. Rydell High from the movie Grease), and the mansion from Gone with the Wind.

Having participated in one CicLAvia, how does it compare to San Jose's VivaCalle SJ? The consensus is a testament to the City of San Jose that in just two years, attendance has matched that of other longstanding open streets events.

While CicLAvia was overwhelmingly attended by bicyclists, VivaCalle SJ attracts a broader base: pedestrians, people with strollers, roller skaters. Both events include "hubs" with fun activities for participants, but VivaCalle SJ seems to have more activities spread along the route.

Some of the key takeaways of the trip for our area:
Open streets events can help boost bike culture, which may lead to more investments in bike/pedestrian programs, create healthier communities, and change the landscape of the community.
Paramount to success is partnering with other organizations and actively engaging local communities in advance of the event.
Open street events can help increase ridership, as LA Metro experienced during CicLAvia event days.
Open streets events boost business along the route, and allow people to experience and explore their community with their neighbors.
The next Viva CalleSJ is planned for September 17, 2017. VTA will be there, and we hope you will, too.