What's Your Favorite Coffee Shop Near VTA?
1/22/2018 5:17 AM

|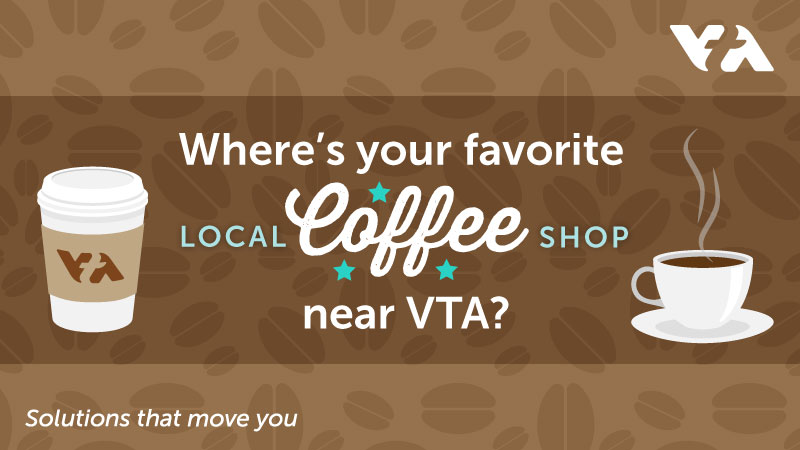 Coffee, cappuccino, espresso?

Large, half caff, skinny mocha with whip?

Whatever your order, it's what gets many of us going in the morning and through the daily grind.

We're asking our riders to vote for their favorite coffee shop—we're focusing on local favorites based in Santa Clara County, which offers plenty of options.

What's your favorite locally owned coffee shop and the closest VTA bus route or light rail station?

Tell us on Instagram, Twitter and our Facebook wall using #VTAcoffee and you could win $25 to spend at your favorite cafe. Include a photo or video! See the full contest rules below.

Can't choose just one? Post as many times as you want from Jan. 22 through 28 to have your votes counted and increase your chances of winning.
Third Wave of Coffee
VTA has stops and stations close to many coffee shops throughout Santa Clara County that represent what's known as the "third wave of coffee."

The third wave is defined by a focus on direct sourcing of beans, artisanal and small-batch local roasting, and a wide array of brewing methods.

The first wave is considered, retroactively, to have been the 19th century influx of coffee into the American market with brands like Folgers and Maxwell House.

The second wave has been defined as the period from the 1960s to the 1990s that saw the rise of specialty coffee shops and roasters, launching chains like Starbucks and Peet's Coffee & Tea.
Popular Brewing Methods
While it all starts with the beans and everyone has their preference, there are also more ways to brew coffee than any but the most passionate aficionados are likely to have heard of.

Espresso machines, drip coffee makers, and French presses are classics, but have you ever tried a Chemex, nitro coffee or a cold dripper? Vietnamese drip filters and various other kinds of pour-over techniques are also increasingly popular, if not commonplace.
Contest Rules
Entries must be submitted between Jan 22 and Jan 28 at midnight to be eligible for entry. No purchase is necessary.

To enter our contest, you must post an original photo, text post, or a short video about your favorite coffee shop and the closest VTA route. Upload the photo, video or text post on Instagram, Twitter, or VTA's Facebook page wall, and include the hashtag #VTAcoffee.

The coffee shop referenced must be located with ¼ mile of a VTA bus stop or light rail station.

Participants may enter multiple original photos, videos or posts, and there is no limit on the number of entries per participant. Limit one prize per participant.

Entrants must be 13 years or older to win. Winners under 18 years of age must have parental consent to claim their prize. Inappropriate or offensive images will be disqualified and removed. The contest is open to all Santa Clara County residents excluding VTA employees and their immediate families. No substitutions or exchanges are permitted.

VTA will have a random drawing on Jan 28. Three (3) winners will be chosen, and each will win $25 to spend at their favorite coffee shop in the form of a gift card or gift certificate, if available.

Winners will receive prize notification on Jan 28 via social media and must claim their prize as directed through prize notification.

If winning entrants of any prize cannot be contacted, fails to claim the prize, or is ineligible, he/she will forfeit that prize and the prize will be awarded to the next winner. Limit one prize per winner.

Subject to your profile and privacy settings, once you have shared content by posting it to the public, VTA may re-share your content on Facebook, Twitter and Instagram. VTA will recognize the original author of the content. VTA will re-share or re-tweet content shared as part of this contest for advertising and promotional purposes without compensation.