Your Vision for Transit on State Route 85
1/11/2018 2:53 PM

|

This blog post was written by VTA Sr. Transportation Planner Adam Burger.

VTA is studying options for potential transit service along State Route (SR) 85. The present objective is to develop design concepts for that transit service that will undergo detailed analysis. One of the first steps is to understand community desires for the corridor and how open SR-85 travelers are to transit, which is discussed in this blog post. Read more about the study in our kickoff blog post.

In an online survey that ran from mid-October through the end of November, we asked you to share with us how you use State Route 85 and what you feel could make the experience better. We received almost 2,500 responses expressing frustrations, hopes, and visions for an improved roadway. Here are some of the more interesting things you told us and how that informs the potential for transit on State Route 85.

Respondents are…
Survey respondents are a disproportionally high number of middle-aged, male, white/Caucasian and more affluent than compared to actual Santa Clara County residents. This may represent those who live, work and travel along the State Route 85 corridor. It may also be biased toward those who are more involved in civic issues, better connected to our survey promotion channels or who felt more compelled to respond to an online survey. We asked these questions to understand how respondents compare to our area as a whole. This helps us understand whose voices were heard and were not heard throughout the survey.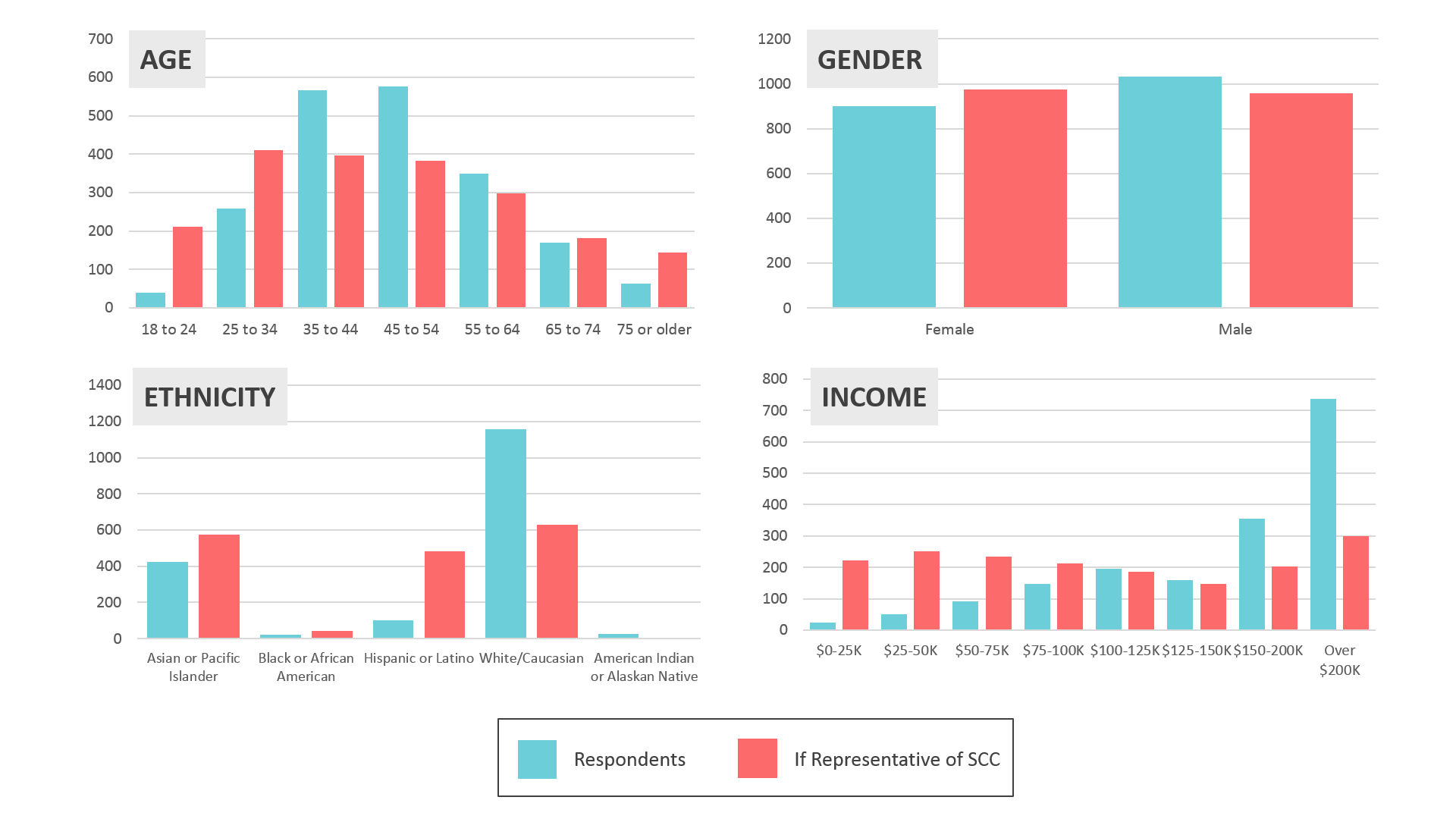 Respondents are interested in a transit option on State Route 85
About two-thirds of respondents indicated that they would consider using a transit service on SR-85 with about half stating that they were somewhat likely or very likely to use the service. This indicates a healthy demand for transit, frustration with the driving experience or both. We caution that respondents offered this input while envisioning their own version of a transit service on SR-85. Ultimately, the project designs that are considered will have to appeal to the public at large and may not be as personally customized as respondents may have imagined.




Respondents are time-sensitive
Survey respondents indicated that their willingness to take transit largely depended on how long the transit trip would take compared to their current option. If the trip takes 25% or 50% longer than their current option, the likelihood of using transit becomes quite low. This presents a big challenge for this study. We can make trip durations shorter by having fewer stations along the route. However, the fewer stations there are the fewer possible trip combinations and fewer people who are likely to use transit. Designing an appealing transit service will be a balancing act between speed and utility.



Respondents expect to use cars for part of their trips
We asked how respondents envisioned getting to the nearest transit station from their home (first mile) and how they would get from the station where they exit to their destination (last mile). Stations would likely be located where major streets cross State Route 85. Three-quarters of respondents indicated they would consider a car-related choice like driving to a park-n-ride, getting a ride from friends or family or taking a taxi or ride-hailing service to get to the station near their home. On the destination side, respondents provided more diverse responses but still leaned toward car-oriented solutions.




These responses are in stark contrast to how VTA's current riders access to transit. About 90 percent of current riders get to their stop by walking, bicycling or transferring from another transit vehicle. This may be indicative of different preferences or increased access to vehicles among West Valley travelers. The data also likely indicates that many of the respondents do not live within walking or bicycling distance of a transit stop. Accommodating car access at stations may require the VTA studies to include park-n-ride or drop-off facilities to accommodate these first and last mile preferences.

What VTA will do with this information
Our next task is to design a transit service that will meet the following four objectives:
Fast travel speeds
Easy to access
Appealing to many riders
Not too expensive to build and operate
This will be a challenging task. Fast transit service makes fewer stops but is harder to access services as the stations tend to be farther apart. Serving many stations will make transit easier to access, but the frequent stopping will decrease travel speeds and increase the project cost, as more stations will need to be built and maintained. We can offset slower travel speeds by making the service more frequent so that wait times are decreased, but this raises the operating cost as more drivers and vehicles are needed.

The SR-85 Policy Advisory Board (PAB) is guiding this study. Therefore, they will wrestle with all these objectives. They will attempt to develop project designs that VTA will study in the next stage of the project. When that work is completed, we will release a report that compares all of the studied project designs. We will compare each design along with several metrics like projected ridership, cost to build, cost to operate, travel speeds, and more. After reviewing that report, the PAB will make a recommendation to VTA's Board of Directors on how to proceed with this project.