Contact Me
Envision Silicon Valley
(408) 321-7544
Home>Envision>Envision Silicon Valley
Envision Silicon Valley
VTA launched Envision Silicon Valley to engage community leaders and county residents in a dynamic visioning process to discuss current and future transportation needs, identify solutions and craft funding priorities.
This process has helped us prepare for Measure B, a countywide sales tax measure to be placed on the November 2016 ballot to enhance transit, highways, expressways and active transportation (bicycles, pedestrians and complete streets).
On June 2, the VTA Board unanimously adopted the
framework and funding allocations for a 1/2-cent, 30-year sales tax measure
, and then on June 24 adopted a
revised resolution that made changes to the SR 85 Corridor funding category
. The Board heard a total of 125 comments from members of the public between the workshop and the June board meeting.
A sales tax is anticipated to generate between $6 billion and $6.5 billion in 2017 dollars. If passed in November by a two-thirds vote, tax collections could begin as early as April 2017. A Citizen's Oversight Committee would also be formed to ensure transparency and accountability.
Economic Impact Report
The Bay Area Council Economic Institute produced a report about the economic impacts of this potential infrastructure investment.
Read the r
eport
and the
executive summary
to learn more.
Sales Tax Proposal
The categories and transportation projects that were approved for the ballot measure are as follows: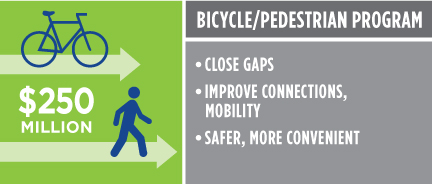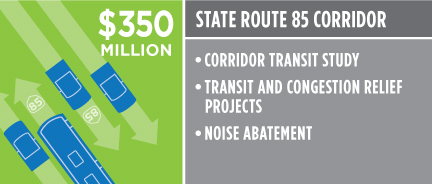 ​Transportation projects, especially larger projects, are typically built using a variety of funding sources. A countywide sales tax will provide a local revenue source that can be leveraged to help obtain additional funds through regional, state and federal fund sources.
Programs and projects for the sales tax measure were drawn from the Envision Silicon Valley and Plan Bay Area 2040 long-range transportation plans​. The VTA Board of Directors approved the updated comprehensive list.​ An explanation of the evaluation process can be found under
Long-Range Transportation Goals
below.
Public Input
The program categories and funding amounts identified in the pending sales tax measure resulted from 18 months of collaboration with VTA's Stakeholder Committee and advisory committees. VTA also received input from the public, elected officials from the 15 cities and towns within Santa Clara County, Santa Clara County and polling conducted by the Silicon Valley Leadership Group.

VTA held five informational meetings throughout the county in May 2016 to provide the public with updates on staff's recommendations for the sales tax measure and to continue to solicit feedback in advance of the Board's June 2 vote. The last meeting was live streamed on VTA's YouTube channel and has been archived. Residents wishing to learn more about the funding allocations and candidate projects may watch the presentation.

From April 2015 through early June 2016, VTA conducted both online and in-person community outreach to explain Envision Silicon Valley and seek input from residents. Outcomes were included in a report to VTA's Board of Directors.

About 200,000 people visited the Envision Silicon Valley interactive microsite, submitting 1,940 "Transportation Challenge" budgets and 2,400 Transportation Priority surveys. Thank you to all who participated.

Approximately 1,765 individuals attended one of 54 group presentations, community events, community open houses or Transit Justice Alliance workshops, and provided 330 comments. View an outreach report provided to the Board of Directors that summarizes these findings.

VTA also worked with Textizen, a text message-based survey platform, to gather input and share information with people using their cell phone. Thank you to everyone who participated in these surveys. You can see the results of the first survey here and the second survey here, including the response trends and participants statements about their transportation priorities.
VTA staff identified three outcomes for the Envision Silicon Valley process:
Develop criteria that will be used to create a viable list of transportation projects.
Establish a list of transportation projects to address mobility and congestion.
Create a financing plan.
The VTA Board of Directors adopted the Goals for Envision Silicon Valley on June 4, 2015. They were developed in collaboration with the Stakeholders Committee and were previously reviewed and recommended for adoption by the Ad Hoc Committee on Envision Silicon Valley. Stakeholders also developed 32 quantitative and qualitative Evaluation Criteria to evaluate how projects would help achieve the goals. The VTA Board of Directors approved the criteria in September 2015.

In the first quarter of 2016, VTA staff evaluated projects of $100 million or more. To provide a more meaningful analysis, similar projects, such as bike and pedestrian projects, were also grouped together and analyzed if they equaled $100 million or more.

Learn more about the Project Evaluation or download the Envision Silicon Valley project list.​
Envision Silicon Valley Call for Projects
VTA worked with city agencies, the County, civic groups, stakeholders and the public through a "Call for Projects" to develop the list of new and updated projects to be included in Envision Silicon Valley and Plan Bay Area 2040. The VTA Board of Directors adopted this comprehensive list in 2015.​

For further details, view the Project Evaluation and download the Envision Silicon Valley project list adopted by the VTA Board of Directors.
Interested in Learning More?
Subscribe to Envision Silicon Valley updates to stay informed about the pending sales tax measure and to receive updates on the ongoing work of Envision Silicon Valley.

Do you have feedback on long-range transportation programs and projects that you'd like to share right away? Please email us at envision.sv@vta.org.