Green Line: Bus Bridge Between Winchester and Bascom Stations, Apr. 24 - May 9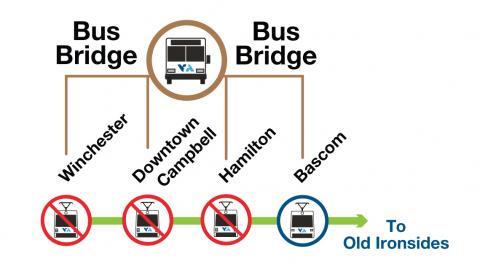 Due to station and track construction at Hamilton Station, VTA will be operating a bus bridge on the Green Line from April 24 through May 9, north and southbound, as follows:
GREEN LINE SOUTHBOUND (Old Ironsides to Winchester): Southbound passengers must board the bus bridge at Bascom to travel to Hamilton, Downtown Campbell, or Winchester Stations.
GREEN LINE NORTHBOUND (Winchester to Old Ironsides): Passengers at Winchester, Downtown Campbell, and Hamilton stations should board bus bridge and reconnect with light rail at Bascom Station.
During this time, trains traveling north and southbound through Bascom and Fruitdale Stations may operate on either side of the tracks. Please pay attention to train signs and announcements.
Passengers should allow for additional travel time. Bus bridges are subject to change.