Home>Projects and Programs>Planning>Story-Keyes Complete Streets Study
Story-Keyes Complete Streets Study

Overview
In early 2015, VTA initiated a new component of its Complete Streets Program by beginning a series of corridor studies to implement Complete Streets elements along selected roadways in Santa Clara County. This planning effort is a partnership between VTA and its Member Agencies to transform select roadways into high-quality, multimodal streets that prioritize bicycle, pedestrian and transit travel while still serving motorists.

The Story-Keyes Corridor Complete Streets Study, a joint project with the City of San Jose, evaluates 4 miles of Calle Willow, Story Road and Keyes Street from SR-87 to Capitol Expressway. The purpose of this planning study is to identify opportunities to demonstrate and advance Complete Streets improvements. The study will evaluate transit travel times, signal coordination, signal timing modifications, multimodal access, safety, and connectivity. VTA bus route 25 runs on Story-Keyes, while routes 66, 68, 72, and 73 intersect it. VTA's Alum Rock-Santa Teresa line is less than a mile north of the Story Road Capitol Avenue intersection.
Objectives
Through a collaborative effort with the general public, local, regional and state stakeholders, the study identified the below transportation improvements and developed the below implementation plan for the corridor that will promote mobility and connectivity, enhance safety and security, address pedestrian and bicycle issues, support economic vitality and sustainability, and is sensitive to the environment and community values.

Click on image for details: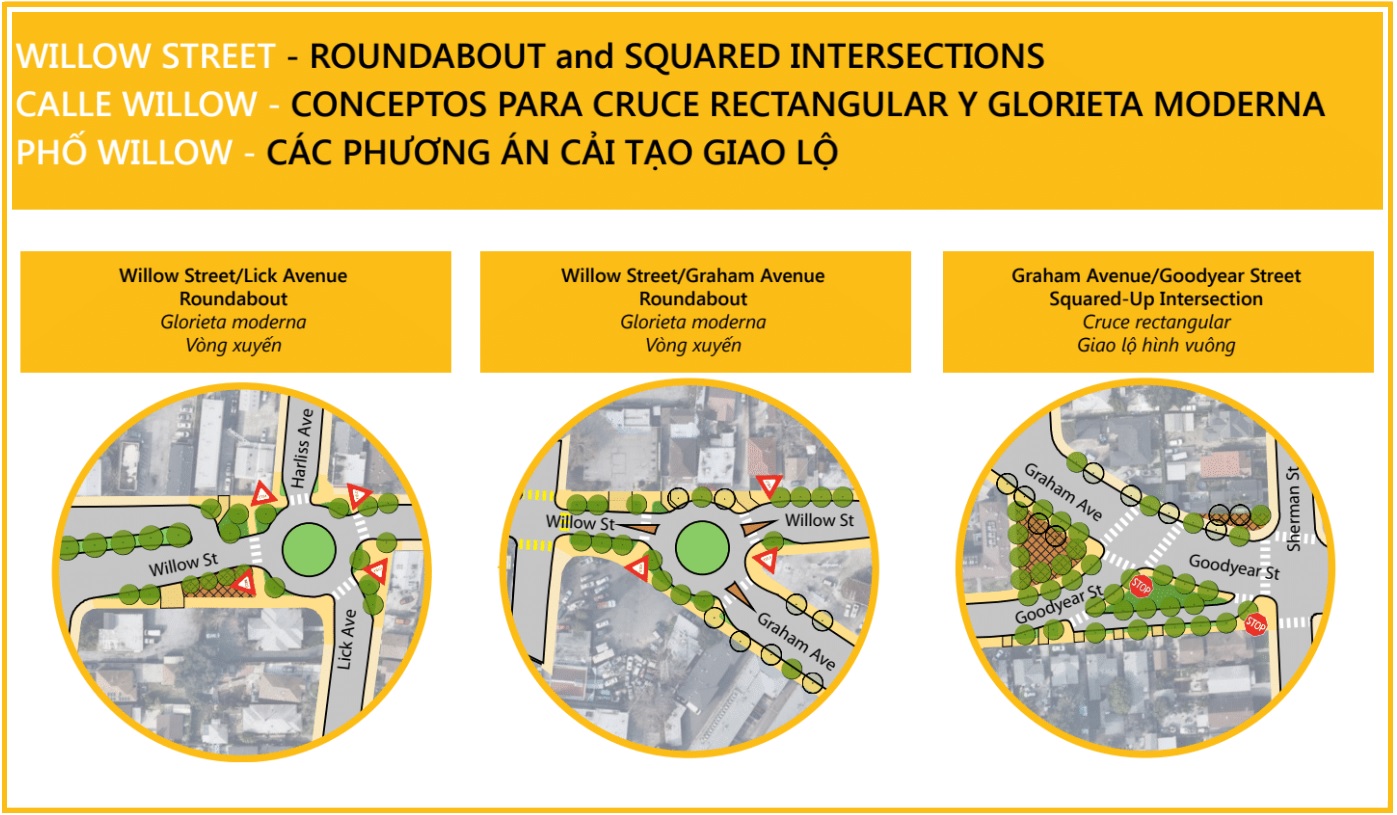 Project Schedule
September 2016 Project Launch

Summer 2016 Existing Conditions Report released

Fall 2016 Round One Public Input Meetings

Summer 2017 corridor design alternatives released

Summer 2017 public design workshops and Round Two Public Input Meetings

Summer- Early Fall 2017 refinement of corridor design alternatives

Late Fall 2017 Round Three Public Input Meetings

Spring 2018 preferred corridor design alternatives released

Summer 2018 Draft Report and Design Basis

Summer 2018 Final Report presented to the committees and VTA Board for Adoption
Public Meetings
Gathering public input is critical to the success of all the planning efforts VTA undertakes. We are very grateful for the feedback the community provided through our first round of public meetings and the mapping survey that was available in the Fall of 2017, (October-November).

VTA planners will incorporate public input to draft a plan of the preferred design of Calle Willow, Keyes Street and Story Road which will be coming early 2018.
Upcoming Community Meetings:
Thursday, December 7, 2017 at 8:30 AM
Madre-a-Madre (Parent Program) at Washington Elementary School
100 Oak Street, San Jose, CA 95110

Monday, December 11, 2017 at 2:00 PM
Asian Americans for Community Involvement (AACI)
749 Story Rd. Suite 50
San Jose, CA 95122

Wednesday, December 13, 2017 at 7:00 PM
Spartan Keyes Neighborhood Action Center
570 Keyes St, San Jose, CA 95112

Join VTA staff in discussing the preferred designs for the Story-Keyes Complete Street project at any of the public meetings scheduled in early December 2017. Individuals who require language translation/interpretation, American Sign Language or other assistance are requested to contact VTA Community Outreach at (408) 321-7575 TTY (408) 231-2330 at least five (5) business days before the public meeting.
Past Community Forums:
Leininger Community Center, 1300 Senter Road, San Jose, CA 95116

May 23, 2017
Emma Prusch Park Meeting Hall
647 King Rd, San Jose, CA 95116
This location is served by VTA bus routes 22, 25 and 77
Project Funding
The Complete Streets Corridor Studies are funded through state and federal grants and the Vehicle Registration Fee (VRF) fund.
Contact Us
VTA Community Outreach
Phone: (408) 321-7575
TTY Only: (408) 321-2330
community.outreach@vta.org