Home>2016 Measure B>Measure B
2016 Measure B
Santa Clara County voters have approved 2016 Measure B, a 30-year, half-cent countywide sales tax to enhance transit, highways, expressways and active transportation (bicycles, pedestrians and complete streets). The measure passed by nearly 72%, the highest level of support for any Santa Clara County transportation tax.

VTA looks forward to working with the community and our partners including the cities and Santa Clara County to advance the investments this sales tax will enable.

Over the next 30 years, 2016 Measure B is anticipated to generate $6.3 billion in 2017 dollars. Collection of the tax began on April 1, 2017. VTA is developing a web presence that will track the performance of 2016 Measure B projects and programs and report how funding recipients are delivering on promises made to the taxpayers.​
Program Categories and Guidelines
The categories and transportation projects eligible for 2016 Measure B funds are as follows: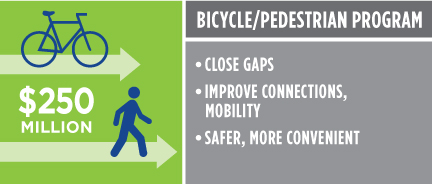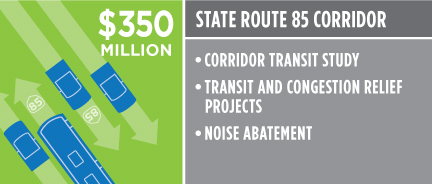 The VTA Board of Directors adopted guidelines for each of the nine Program Categories at their October 2017 and November 2017 meetings. These guidelines are intended to direct the implementation of each program category and propose how the program category funds should be allocated.
Transportation projects, especially larger projects, are typically built using a variety of funding sources. A countywide sales tax provides a local revenue source that can be leveraged to help obtain additional funds through regional, state and federal fund sources.
What's New
A lawsuit challenging the validity of 2016 Measure B was filed in 2017. Nearly two years after Santa Clara County voters approved 2016 Measure B followed by a drawn out judicial process, the California Supreme Court refused to hear an appeal on a meritless legal challenge. This paved the way for the lower court, which also ruled against that challenge, to allow VTA to begin dispersing the accumulated funding in escrow, as of January 30, 2019.

As the challenge and subsequent appeal worked its way through the legal process, funds were collected and held in escrow until the lawsuit could be resolved.
Citizens Oversight Committee
At its September 2017 meeting, the VTA Board of Directors appointed seven individuals to serve on the 2016 Measure B Citizen' Oversight Committee.

An orientation for the members of the committee was held on December 5, 2017.
Partner Agencies
Partner agencies are required to use VTA's 2016 Measure B logo in their collateral materials. The logo is available in multiple formats.
Contact Us
Please email us at community.outreach@vta.org with any questions, input or feedback about this program.