Home>2016 Measure B>Measure B
2016 Measure B
Santa Clara County voters have approved 2016 Measure B, a 30-year, half-cent countywide sales tax to enhance transit, highways, expressways and active transportation (bicycles, pedestrians and complete streets). The measure passed by nearly 72%, the highest level of support for any Santa Clara County transportation tax. Thank you for your support.

VTA looks forward to working with the community and our partners including the cities and Santa Clara County to advance the investments this sales tax will enable.

2016 Measure B is anticipated to generate between $6 billion and $6.5 billion in 2017 dollars. Tax collections are expected to begin April 2017 and VTA expects to receive its first payment in June 2017. VTA is developing a web presence that will include a data-driven reporting dashboard and an interactive map showing planned, funded and completed projects.​
Funding Categories
The categories and transportation projects to be funded by 2016 Measure B are as follows: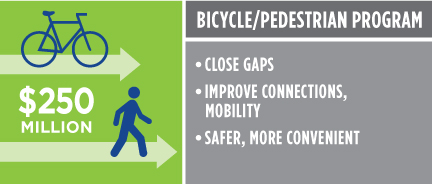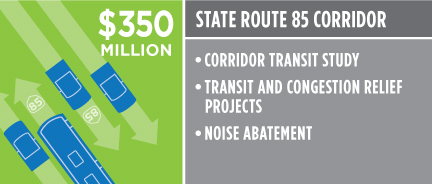 ​Transportation projects, especially larger projects, are typically built using a variety of funding sources. A countywide sales tax provides a local revenue source that can be leveraged to help obtain additional funds through regional, state and federal fund sources.
What's Next and Upcoming Meetings
With the passage of the sales tax, VTA must develop guidelines for each of the nine program areas as described in the resolution that created the measure. In order to allow for sufficient time to discuss each of the nine program areas, VTA will present the proposed guidelines for three of the programs each month beginning in February. VTA will present the final set of draft guidelines in May.
The following VTA committees will be discussing the guidelines as part of their regularly scheduled meetings. The public is welcome to attend these meetings to learn more about the proposed guidelines and provide input. Please click each for meeting dates, agendas and a description of each committee.

Do you have feedback on long-range transportation programs and projects that you'd like to share right away? Please email us at community.outreach@vta.org.