Contact Me
Envision Silicon Valley
(408) 321-7544
Home>2016 Measure B>Measure B
2016 Measure B
Santa Clara County voters have approved 2016 Measure B, a 30-year, half-cent countywide sales tax to enhance transit, highways, expressways and active transportation (bicycles, pedestrians and complete streets). The measure passed by nearly 72%, the highest level of support for any Santa Clara County transportation tax. Thank you for your support.

VTA looks forward to working with the community and our partners including the cities and Santa Clara County to advance the investments this sales tax will enable.

A sales tax is anticipated to generate between $6 billion and $6.5 billion in 2017 dollars. Tax collections are expected to begin April 2017 and VTA expects to receive its first payment in June 2017.

A Citizen's Oversight Committee would also be formed to ensure transparency and accountability, and VTA is developing a web presence that will include a data-driven reporting dashboard and an interactive map showing planned, funded and completed projects.​
Until the formation of the Citizen's Oversight Committee, 2016 Measure B will be overseen by the following committees (click each for meeting dates and agendas):
Funding Categories
The categories and transportation projects to be funded by 2016 Measure B are as follows: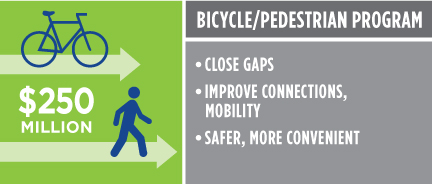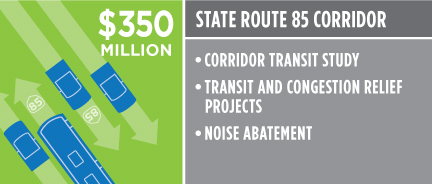 ​Transportation projects, especially larger projects, are typically built using a variety of funding sources. A countywide sales tax provides a local revenue source that can be leveraged to help obtain additional funds through regional, state and federal fund sources.
Programs and projects for the sales tax measure were drawn from the Envision Silicon Valley and Plan Bay Area 2040 long-range transportation plans​. The VTA Board of Directors approved the updated comprehensive list.​ An explanation of the evaluation process can be found under
Long-Range Transportation Goals
below.
Economic Impact Report
The Bay Area Council Economic Institute produced a report about the economic impacts of this potential infrastructure investment.
Read the r
eport
and the
executive summary
to learn more.


Public Input
The program categories and funding amounts identified in the pending sales tax measure resulted from VTA's Envision Silicon Valley effort, 18 months of collaboration with VTA's Stakeholder Committee and advisory committees. VTA also received input from the public, elected officials from the 15 cities and towns within Santa Clara County, Santa Clara County and polling conducted by the Silicon Valley Leadership Group.

From April 2015 through early June 2016, VTA conducted both online and in-person community outreach to explain Envision Silicon Valley and seek input from residents. Outcomes were included in a report to VTA's Board of Directors.
VTA staff identified three outcomes for the Envision Silicon Valley process:
Develop criteria that will be used to create a viable list of transportation projects.
Establish a list of transportation projects to address mobility and congestion.
Create a financing plan.
The VTA Board of Directors adopted the Goals for Envision Silicon Valley on June 4, 2015. They were developed in collaboration with the Stakeholders Committee and were previously reviewed and recommended for adoption by the Ad Hoc Committee on Envision Silicon Valley. Stakeholders also developed 32 quantitative and qualitative Evaluation Criteria to evaluate how projects would help achieve the goals. The VTA Board of Directors approved the criteria in September 2015.

In the first quarter of 2016, VTA staff evaluated projects of $100 million or more. To provide a more meaningful analysis, similar projects, such as bike and pedestrian projects, were also grouped together and analyzed if they equaled $100 million or more.

Learn more about the Project Evaluation or download the Envision Silicon Valley project list.​
Call for Projects
VTA worked with city agencies, the County, civic groups, stakeholders and the public through a "Call for Projects" to develop the list of new and updated projects to be included in Envision Silicon Valley and Plan Bay Area 2040. The VTA Board of Directors adopted this comprehensive list in 2015.​

For further details, view the Project Evaluation and download the Envision Silicon Valley project list adopted by the VTA Board of Directors.
Interested in Learning More?
Subscribe to 2016 Measure B updates to stay informed about the pending sales tax measure and to receive updates on the ongoing 2016 Measure B work.

Do you have feedback on long-range transportation programs and projects that you'd like to share right away? Please email us at community.outreach@vta.org.